USA Coin Book
>>
Half Dollars
>>
Kennedy
>>
1976-P
1976 P Kennedy Half Dollars
Bicentennial Design
Mintage:
234,308,000
Minted at:
Philadelphia
Designer - Engraver:
Seth G Huntington
Metal Composition:
91.67% Copper - 8.33% Nickel
Diameter:
30.6 mm
Mass / Weight:
11.5 grams
What this coin looks like (obverse, reverse, mint mark location, special features, etc.):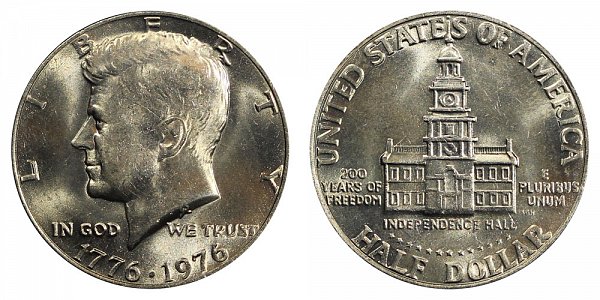 The bicentennial Kennedy Half Dollar features a 1776-1976 date on the obverse and a portrait of Philadelphia Pennsylvania's Independence Hall with the words "200 YEARS OF FREEDOM" on the reverse of the coin to celebrate the 200th anniversary of the United States of America. This coin was produced in both years of 1975 through 1976 so there were no 1975 coins.
Coin valuation chart:
Typical coin prices, values and worth per grade or condition - in USD
Good
(G-4)
Very Good
(VG-8)
Fine
(F-12)
Very Fine
(VF-20)
Extremely Fine
(EF-40)
About Uncirculated
(AU-50)
Uncirculated
(MS-60)
Uncirculated
(MS-63)
Proof
(PR-65)
-
-
-
-
-
-
-
1.95
-
Show people this coin:
View as:
1976 P Kennedy Bicentennial Half Dollar

Seller: Leyendecker
Condition: BU

21 For Sale

$1.95
Shipping: $1.00

1976 P Kennedy Half Dollar
TS026
Seller: Greenfield
Condition: BU

1 For Sale

$2.00
Shipping: $1.00

1976 P Kennedy Half Dollar
Item: US0726
Seller: Greenfield
Condition: BU

1 For Sale

$2.00
Shipping: $1.00

1976 P Kennedy Half Dollar
Item: US0418
Seller: Greenfield
Condition: UNC

1 For Sale

$2.00
Shipping: $1.00

1976 P Kennedy Half Dollar
Item: US0770
Seller: Greenfield
Condition: UNC

1 For Sale

$2.00
Shipping: $1.00

1976 P Kennedy Half Dollars
US1022
Seller: Greenfield
Condition: AU

1 For Sale

$1.50
Shipping: $1.00

1976 P Kennedy Half Dollar
US1021
Seller: Greenfield
Condition: AU

1 For Sale

$1.50
Shipping: $1.00

1976 Kennedy Bicentennial Half Dollar - Off-Center (5237)
The coin pictured is the actual coin you will receive!
Seller: ctcoins


1 For Sale

$2.99
Shipping: $1.09

** 1976 ** MINT
BRILLIANT UNCIRCULATED, MS-66 - BICENTENNIAL KENNEDY HALF DOLLAR
Seller: Johnscoins
Condition: BRILLIANT UNCIRCULATED, MS-66

1 For Sale

$72.99
Shipping: $3.45

** 1976 **
UNCIRCULATED MS-65 - BICENTENNIAL KENNEDY HALF DOLLAR
Seller: Johnscoins
Condition: UNCIRCULATED MS-65

1 For Sale

$19.95
Shipping: $1.85

1976 Kennedy Bicentennial Half Dollar (5049)
The coin pictured is the actual coin you will receive!
Seller: ctcoins


1 For Sale

$0.99
Shipping: $1.09

1976-P&D 50C Kennedy BRILLIANT AND BICENTENNIAL Coin Set

Seller: MAGILLA


1 For Sale

$3.89


Free Shipping

1976 P KENNEDY HALF DOLLAR

Seller: RnRCoins
Condition: UNC

1 For Sale

$1.75
Shipping: $0.50

1976 P KENNEDY HALF DOLLAR
From MINT SET
Seller: RnRCoins
Condition: BU

1 For Sale

$2.00
Shipping: $0.50

-- 1876-1976 --
EXTRA FINE - KENNEDY HALF DOLLAR
Seller: Johnscoins
Condition: EXTRA FINE

1 For Sale

$2.25
Shipping: $1.30

1976 Bicentennial Kennedy Half Dollar - Unc
Clearance - From Bank Rolls
Seller: cinvestors
Condition: UNC

7 For Sale

$2.00


Free Shipping

1976 P Kennedy Half Dollar

Seller: wilson1


1 For Sale

$9.00
Shipping: $2.00

1976 P Kennedy Half Dollar

Seller: Bruce
Certification Agency: US Mint Condition: UNCIRCULATED

1 For Sale

$2.60


Free Shipping

1976 Kennedy Half Dollar Brilliant Uncirculated (BU)
Bicentennial Design
Seller: doubledguy
Condition: MS63 or better

2 For Sale

$1.75
Shipping: $2.50