1922 P Peace Dollars : High Relief
Early Silver Dollars
Mintage: 35,401
Metal Composition: 90% Silver - 10% Copper
Diameter: 38.1 mm
Mass / Weight: 26.73 grams
What this coin looks like (obverse, reverse, mint mark location, special features, etc.):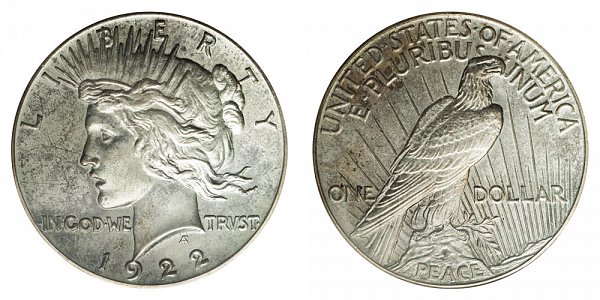 One extremely rare and valuable variety is the 1922 High Relief Peace Dollar. Most 1922 Peace dollars are Normal Relief. So their features are not as sharp and they don't stand out as much. In the previous year - All 1921 Peace Dollars were High Relief. The US Mint found that this original high relief design produced a higher quality and more beautiful coin but it caused more wear and tear on the dies that produce the coins - which had to be replaced often. So early in 1922: The US Mint decided it was more practical to produce dies that resulted in a coin design with lower relief and lower quality for general circulation.
The US Mint originally produced 35401 of these 1922 High Relief coins (mostly non-proof business strikes intended for general circulation) before going to a Normal relief design. Nearly all of these high relief coins were melted down a short time later by the US Mint. Only about 10 to 12 High Relief 1922 Proof (Matte Proof) Peace Dollars are estimated to exist. One stray non-proof business strike coin also exists!
Depicted above is a 1922 High Relief Matte Proof Peace Dollar while the image below depicts a 1922 Normal Relief Matte Proof Peace Dollar. Both varieties are exceptionally valuable - but the High Relief version is the crown jewel (Sources of example images are courtesy of Heritage Auction Galleries):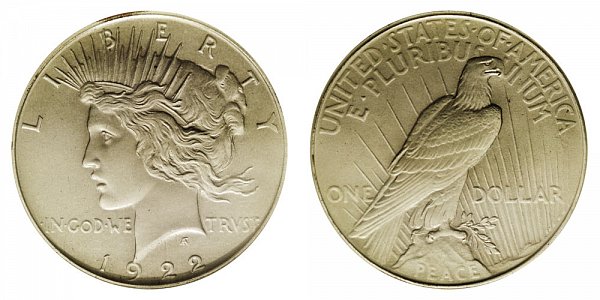 It is quite easy to identify the differences between the high relief and low relief coins. Both the obverse (front) and reverse (back) of the coin have differences. On the obverse of the coin: The numbers in the date and letters appear thicker on the high relief variety - even the spikes coming off the liberty crown are noticeably thicker. Although on the normal relief variety the spikes are longer and thinner with one small extra spike between the two left-most spikes. These features are depicted by the arrows in the example image below (Notice how much longer and thinner the spikes are near the letter "E" in the word "LIBERTY" on the Normal Relief variety vs the shorter spikes on the High Relief variety):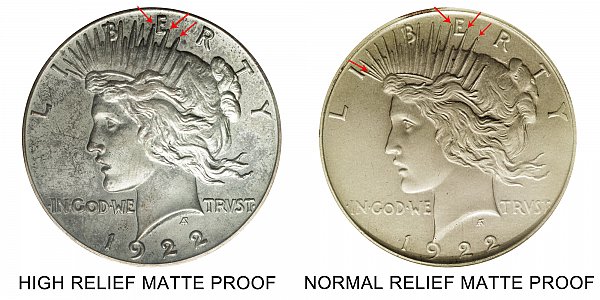 On the reverse of the coin: The high relief version also features thicker letters. The letters are much clearer on the high relief variety whereas the letters on the reverse lower relief coin appear blurry (especially in the word "PEACE" at the base of the coin). The portrait of the eagle and the rays are also vastly more detailed than the lower relief variety. The rays are also longer on the high relief version and there are two extra rays near the rock where the eagle is perched (depicted by the arrows). Two rays clearly appear within the middle of the letter "O" in the word "DOLLAR" on the high relief version - whereas on the low relief variety there is only one ray "clearly" seen through the middle of the "O". The differences are depicted below in the example comparison image of the reverse of the coins:
MELT VALUE: $13.31
0 items found