USA Coin Book Item ID Number:
148728
Certification Number:
MsLeslie's Best Guess
Surface: This is a beautiful coin, with only one micro-spot that I can find in the field on obv., but on the rev., I see hairlines in the field above the eagle, Too bad, but this is, after all, a bullion coin.
Strike: I have noticed that these earlier ASEs have a generally better strike than the 2016s. Look at the stars in the flag right under the 'B' in 'Liberty' on obv. and then compare to a 2016. The earlier coins are almost always better. The strike on this coin is excellent.
Luster: Brilliant white
Eye Appeal: Gorgeous, even with those hairlines
Photos
Please look carefully at the photos. The pictures you see are the exact item you will receive.
If you have any question, please contact me. I want to be sure that you have an accurate description.
Shipping
First Class and Priority Shipping come with tracking and are guaranteed to your mailbox.
Economy shipping is not tracked and is at your own risk.
If you are outside the United States, please contact me for an estimate of postage costs.
Shipping for this coin is USPS First Class
If you prefer an alternate, please advise me immediately upon checkout.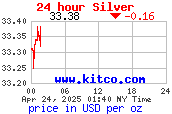 Oh, BTW... I've got more SAE's. IF you want to see them, click here!