Adolph A Weinman Biography
Adolph A Weinman
US Coin Designer and Engraver - Mercury Dime and Walking Liberty Half Dollar
Adolph Alexander Weinman was born on December 11, 1870 in Durmersheim, Germany. Adolph was raised by his father Gustave Weinmann, a shoemaker, and by his mother Katherina Weingaertner Weinmann. They lived together as a family in the city of Karlsruhe from 1877 up until 1880. In 1880, the father Gustave died, which precipitated in his widow's move with her sons, Gustav and 10-year old Adolph, to the United States, where two daughters previously moved. Adolph lived with his mother and brother until his brother's death; at about age 16, and he then began learning the grocery trade. Like many of those who immigrated to the United States, Adolph changed his last name from Weinmann to Weinman (dropped the last "n") in order to convert it into a more English name after becoming a citizen in 1898.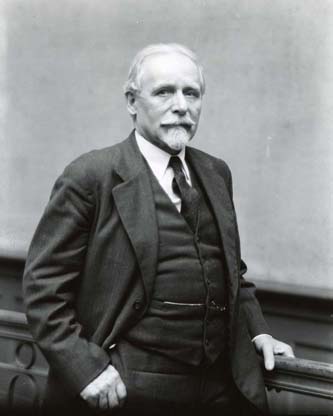 Photo of Adolph A. Weinman, coin designer, engraver, medalist and sculptor.
As Weinman grew up in America, he began developing a talent for art, modeling, drawing and carving. At the age of 15, he signed up for an apprenticeship under Frederick Kaldenberg, who was a carver of wood and ivory, in 1885. Weinman continued to hone his skills and become more experienced in the arts. Many of his early works included carving objects such as smoking pipes and mirror frames out of wood or ivory. After one year of working with Kaldenberg, Adolph also joined the New York City Cooper Union and then later at the Art Students League where he studied more about drawing. He was first exposed to sculpture at Cooper Union. After 5 years, Weinman had completed his apprenticeship and then joined Philip Martiny's medalist studio at the age of 20. This is when he finally got into working on arts related to medals and eventually coins. In addition to his NYC studio, Adolph Weinman also worked under Martiny at the Chicago World's Fair of 1893 on enormous architectural works.
At the time, Philip Martiny was highly reputable and Weinman was establishing his own name as a serious artist. 5 years later, Weinman was able to become the assistant director at Olin H. Warner's studio in 1895. Unfortunately, Olin Warner died and Weinman was forced to move on and work for someone else. This time, he was able to study under Augustus Saint Gauden at the Art Students League, and worked in his studio. Weinman only got to work with him for only 3 years before Augustus Saint Gaudens moved to Paris, France in 1898. St. Gaudens went to Paris to work on the Sherman Monument, but also maintained studios in NYC and Cornish, NH during that time. Saint Gaudens by the way, would end up being one of the most legendary coin designers in the world a few years later in 1907, the same year he died.
After Saint Gaudens left America, Adolph Weinman again needed to find another place to continue his work, and so he joined up with popular medalist Charles H. Neihaus and worked in his studio for another 5 years. During this time, he studied and became even more skilled in the arts. Eventually, Weinman joined up with Daniel Chester French and worked as French's assistant. Daniel French was the one who had indirect connections with US coinage. By serving on the Commission of Fine Arts, he also got to oversee which coin designs were being chosen, and some of his minor work made it onto US coins. The Weinman-French partnership only lasted about 2 years until they broke up and Weinman started his own studio in 1904, at last.
Weinman began working on some of his first commissions, which included an award medal that would be given to participants at the Louisiana Purchase Exposition of 1904 in St. Louis. This medal was struck and produced at the Philadelphia US Coin Mint. This coin was an early predecessor of the silver US half dollar coin that he would be designing in the future as both have similar designs of a walking liberty on the reverse.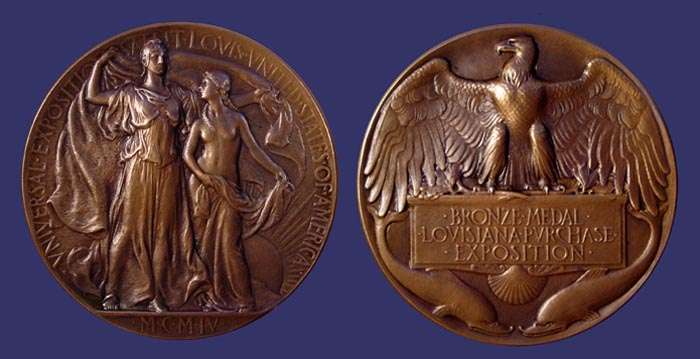 1904 Louisiana Purchase Exposition Award Medal, designed by Adolph A. Weinman.
Adolph did eventually meet up with Augustus Saint-Gaudens in 1905. The two sculptors worked together to produce a medal for President Theodore Roosevelt's inauguration. Saint-Gauden's health was diminishing at this time, but he had a great Renaissance style and vision, so Weinman and his high level of experience was responsible for modeling this piece. St. Gaudens asked Roosevelt to accept Weinman on the project because St. Gaudens's knew his own health was declining, that he was dying and that he had other works he wanted to finish. Again, his involvement with President Roosevelt, who was very passionate about the redesign of US coinage, and working Saint Gaudens, really helped propel him towards working with the US mint.
In 1916, the Commission of Fine Arts invited Weinman and two other sculptors to submit their ideas and designs for a US dime, quarter and half dollar. The commission ended up choosing his designs for the dime and half dollar. However, a competing sculptor by the name of Hermon A. MacNeil, was successful in getting his design selected for the US quarter dollar and would be known as the Standing Liberty Quarter.
The dime that Weinman designed became known as the famous silver Mercury Dime and his silver half dollar is known as the Walking Liberty Half Dollar. The designs of both of these coins were actually inspired by a real person named Elsie Kachel Stevens. Weinman actually sculpted a bust of her 3 years earlier in 1913. Elsie Stevens and her husband the poet Wallace Stevens were actually tenants of Adolph Weinman at 441 W. 21st Street, New York City - which is how Elsie and Adolph Weinman met. The dime features the detailed face of Elsie Stevens while the walking liberty features part of her full figure on the half dollar.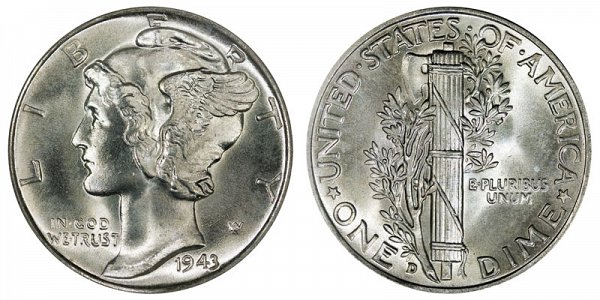 Adolph A. Weinman's design of the silver Mercury Dime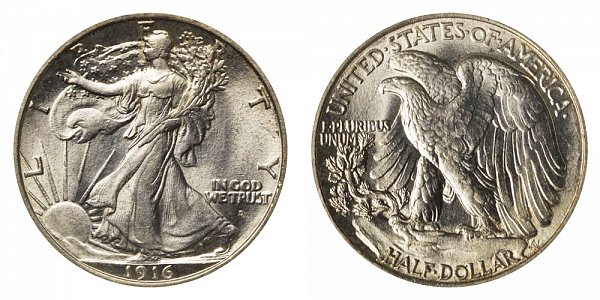 Adolph A. Weinman's design of the silver Walking Liberty Half Dollar
Left: Depicts the bust of Elsie Stevens that Adolph A. Weinman sculpted in 1913 - the same bust used for the inspiration of the Mercury Dime.
Right: Photo of Elsie Stevens and her baby.
The reason this dime is called the Mercury dime is because the obverse depicts what looks like the Roman god Mercury. Some people may initially find it strange that the United States depicts a Roman god on their US coinage. The truth is, it's not actually the god Mercury on the coin. Instead, it's a young female liberty wearing a winged Phrygian cap. Under unbelievable irony, the Phrygian cap itself was actually used in the ancient Roman times to symbolize being freed from slavery of the Roman Empire and it represents freedom and the pursuit of liberty. The Mercury Dime is also referred to, and rightly known as the Winged Liberty Head dime. Although the term Mercury dime is used far more often as the more popular name.
The dime was produced starting in 1916 and lasted until 1945 when he design would be changed after World War II to honor President Roosevelt. The half dollar also started in 1916 and was produced until 1947. The walking liberty design would not end permanently. In fact, it was brought back again in 1986 and was used as the obverse of the 1 ounce American Silver Eagle dollar bullion coin. This coin is especially popular today, especially due to the increase in the value of silver coins because of the precious silver bullion metal prices.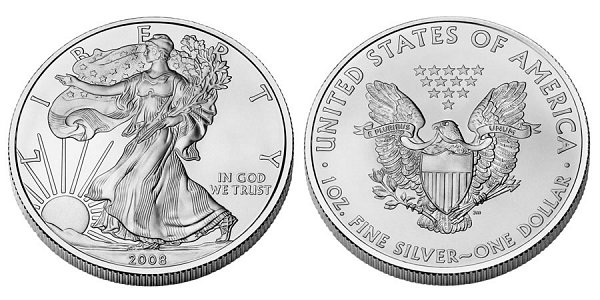 1 ounce American Silver Eagle dollar bullion coin - Walking liberty obverse designed by Adolph A. Weinman.
Besides the US coins, Weinman also produced many other famous works of art on display across the US. One such work is the Descending Night that he designed in 1915 to be displayed in San Francisco for the Panama-Pacific International Exposition. He also produced an income by crafting smaller bronze reproductions of his original works of art, including the Descending Night. Weinman produced Medals for the US Armed Forces, which included the Asiatic-Pacific Campaign Medal, American Campaign and European-African-Middle Eastern Campaign, which had the same reverse designs. He produced dozens of other medals, smaller sculptures and monuments, including the Macomb and Maybury statues located in Detroit, Michigan.
Photo of a Descending Night Statuette sculpture created by Adolph A. Weinman.
Most people know of Adolph Weinman for his Mercury Dime and Walking Liberty Halves, coins that at one time were in every American's pocket. However, the vast majority of his career and work was done as an architectural sculptor. Weinman's coins and medals - designed with great relish - were worked on in between his major architectural and monumental works, which were a much greater determinant of his career among his clients, architects and peers. In fact, he did produce many architectural works of art on state capital buildings in Wisconsin, Louisiana and Missouri. Architectural companies McKim, Mead and White considered Weinman their first artist of choice for the production of sculptures in New York City at the Manhattan Municipal building, and Prison Ship Martyrs' Monument. Sculptures were also produced at the Madison Square Presbyterian Church and Pennsylvania Railway Station, but these two places are now demolished. In addition, he also produced works of art at Chicago's Elks National Veterans Memorial, and in Washington D.C., sculptures at the Post Office Department, Jefferson Memorial and U.S. Supreme Court. These are just a few examples.
Weinman passed away on August 8, 1952 in Port Chester, New York. He would be remembered as an exceptional architectural sculptor and medalist. Perhaps his greatest and most famous legacy involves the Mercury dime and Walking Liberty half dollar, both which are some of the most popular coins in the numismatic field. His papers, designs and plans can be found at the Smithsonian Archives of American Art, National Sculpture Society, American Instituted of Arts and Letters, and the Metropolitan Museum of Art: Department of American Paintings and Sculpture.