Jack L. Ahr Biography
Jack L. Ahr
US Coin Designer and Engraver - Bicentennial Quarter
Jack L. Ahr was born on June 23, 1931 in Cincinnati, Ohio. In his early years and career in art, Jack had attended the Bowling Green State University for 2 years, studying the arts. Afterwards, he continued honing his talent and studies in the art while attending the John Herron Institute of Art located in Indianapolis, Indiana and then later at the American Academy of Art in Chicago, Illinois. Ahr also served his country by serving 2 years in the US Army stationed at Fort Knox, Kentucky, where the US gold and coin bullion reserves are located. For a period of 16 years, Jack had been employed to work as an artist and director for various companies, specializing in the design of academia items such as high school and college class rings, medals, awards, pins and commemorative medallions. In 1972, he opened his own business called Jack Ahr Design and Sales located in Arlington Heights, Illinois.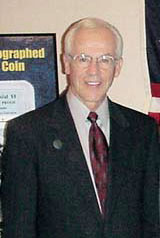 Photo of Jack L. Ahr - Designer of the Bicentennial Washington Quarter
While living in Arlington Heights, Jack Ahr is most famously known for designing the Bicentennial Washington Quarter Dollar. The story of this coin begins in October of 1973 when the US Treasury held a public competition to design commemorative US coins to celebrate the Bicentennial or 200th anniversary of the founding of the United States. The Quarter Dollar, Half Dollar and Dollar coins would retain the obverse design, but the reverse of the coin would be changed for the years 1975 through 1976, just a 2 year period. The obverse of the coins would have the dates 1776-1976.
The national competition was open to all sculptors who were US Citizens, but were not currently employed by the government as a sculptor. Jack Ahr was one of those sculptors who submitted a design to be used on the Washington Quarter Dollar. On March 6, 1974, Ahr's design was selected by the US Mint and he won the competition along with the $5,000 prize. The five judges included Robert Weinman, who was the son of famous coin designer Adolph Weinman, former Chief Engraver Gilroy Roberts, sculptor Adlai S. Hardin, Julius Lauth and Elvira Clain-Stefanelli. The other two winners included Seth G. Huntington who won the design for the Kennedy half dollar and Dennis R. Williams who won the design for the Eisenhower dollar.
The design that Jack created depicted a Colonial Drummer on the reverse along with a flaming torch surrounded by 13 stars. In April of 1974, Jack Ahr was invited to the White House to be honored and also received a tour of the Philadelphia Mint. The current Chief Engraver Frank Gasparro had made a few very minor changes to all three coins before they were finalized. Jack Ahr's quarter was modified to make the drum look more authentic, alter the expression of the drummer's face and change the lettering a little bit.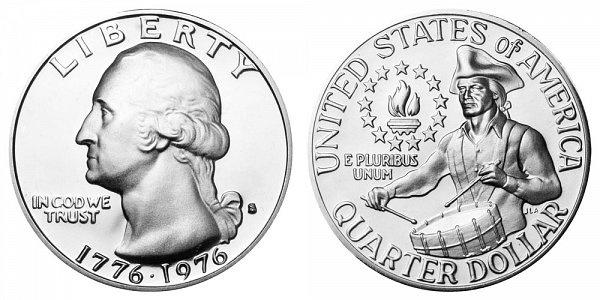 Design of the Bicentennial Washington Quarter. Reverse with Colonial Drummer designed by Jack L. Ahr.
On August 12 of 1974, Jack Ahr got to witness his first prototype quarters being produced. At the time, President Gerald Ford signed a bill requiring that the no bicentennial quarters be released until July 4, 1975. In August of 1975, he was honored again in his hometown of Chicago when the Federal Reserve there began issuing his coins. There was even a ceremony in Daley Plaza, followed by media interviewers and reporters. Even Ahr's coin collector fans couldn't resist asking him to sign autographs. Over 1.6 Billion of these Bicentennial Quarters were minted during the two year period, making it an extremely popular coin that most people have come across and held on to as a commemorative collectible. Even though it is not a rare coin, many people have hoarded a collection of them.
The very first prototypes included a 1976 proof Bicentennial quarter. Only 3 of these proof coins were ever made and were never intended for regular circulation. These special coins did not have a mintmark on them due to presentation purposes. One was given to US President Ford, one to his appointment secretary and the last one probably resides at the Mint, but it was displayed at the American Numismatic Convention in 1974. The metal composition of these coins as the standard 91.67% copper and 8.33% nickel clad alloy. Although, some of them minted at the San Francisco Mint were produced with 40% silver content for collectibles only. Due to the value of silver coins being so high due to it's intrinsic silver content, these silver quarters were released over a period of over 6 years up until 1982 when silver bullion was worth more than the asking price for these collectibles. The West Point Mint also helped produce Bicentennial quarters, but did not use it's mintmark on them, so you would never know the difference between a quarter minted in Philadelphia vs. West Point.
Designer Jack Ahr also had his own company called Jack Ahr Design and Sales, started in 1972, where he specializes in the creation of customized designs and products. His very own business website can be found at: http://www.jackahrdesign.com/.