William Barber Biography
William Barber
US Coin Chief Engraver and Designer
The fifth Chief Engraver of the US Mint is a man named William Barber. He would succeed his friend James Longacre and be appointed to the position after Longacre's death. Barber was born on May 2nd, 1807 in London. His father John Barber would teach William much of the skills in his profession. He began working in London as an engraver for silver plate tableware and also in the technique of making dies for labels and printing cards for Messrs De La Rue & Co. Eventually, Barber would immigrate to the US in September of 1852.
Barber moved to Boston and worked in various jobs that required his skills. During his 10 years, his reputation as a skilled engraver caught the eye of James Longacre, who was Chief Engraver at the Mint. During the Civil War, Barber worked for Gorham & Co., who was a competitor of Tiffany & Co., working on gold and silver items. Then in 1865, Barber was able to get a position working as an assistant at the Mint in Philadelphia and worked with Longacre. When Longacre passed away in January of 1869, William Barber would then be appointed as the Chief Engraver. By tradition, he then hired his very own son Charles Barber, who was untrained at the time, to be his assistant. Charles Barber would one day become a very famous coin designer and engraver, which is a whole story on its own! William also oversaw the commissioning of the Carson City Coin Mint as a major US Branch Mint in 1870. The salary for William Barber in 1877 was $3,000 each year, which was a lot back in those days.
One of the most famous coins that William Barber designed was the Silver Trade Dollar. This coin was inspired by the Seated Liberty dollar and the Britannia. This coin was first produced in 1873 and was minted until 1885. These dollars were meant for circulation throughout the Orient Far East, particularly China, in order to improve trade. The Trade Dollar was minted for general circulation up until 1878. After 1878, they were struck as very rare proof-only collectibles. In 1884, only 10 were minted and in 1885, only 5 were minted. These ultra-rare coins are worth on the order of millions of dollars today.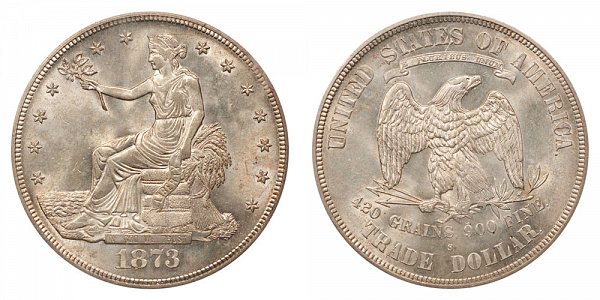 Design of the US Silver Trade Dollar by William Barber.
During his career, he was known for producing many dies and patterns for not only US coins like the reverse of the Twenty Cent Piece, commercial dollars, high quality medals and tokens, private coins, and a very inspiring Amazonian silver coin set in 1872. Barber was very inspired by Longacre's seated liberty designs and motifs. He oftentimes designed new varieties based on these and eventually made his own versions of the seated liberty. William Barber is largely popular in the coin collecting and numismatic field of patterns as he worked in an era when many restrikes and various patterns were issued.
During August of 1879, Barber was on vacation to Atlantic City located on the coast of New Jersey. He went out swimming in the cold water and ended up with severe chills and a fever that didn't go away. He ended his vacation short and decided to go home, hoping the illness would go away. Unfortunately, he passed away on August 31, 1879. William's post as Chief Engraver would then be succeeded by his son Charles Barber. Also, a fellow coin designer, George T. Morgan, would also become Chief Engraver after Charles. Morgan was known for working with William and was involved in a friendly "pattern war" with William for a time.