William Kneass Biography
William Kneass
US Coin Engraver and Designer
The second Chief Engraver of the US mint was William Kneass, who was appointed to the position after Robert Scot passed away while in office. He would be widely known in the numismatic world for making some major contributions to US coinage and the Mint. Kneass was born on September 25, 1781 in Lancaster Pennsylvania, and fought in the War of 1812. During his service, he became a volunteer associate among the field engineers. One of tasks would be to help with construction of fortifications along the western front of Philadelphia.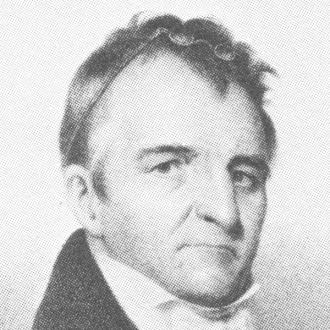 Portrait of William Kneass, the second Chief Engraver and Coin Designer of the US Mint.
Outside of the war, he had much experience in various engraving jobs. Early on in his career, he served as an engraver to make plates for bookwork. He was well know by 1815 and eventually opened up his own engraving shop located on the Forth above Chestnut Street in Philadelphia. It was also a very popular location for the group of "leading wits and men of culture" to meet up at. Kneass also worked at other firms involved with engraving, which also had his name: Young & Kneass & Co. , and Kneass & Dellaker. Much of his work involved line engraving and aquatints.
When Robert Scot died in office, many engravers were considered to take over his position of Chief Engraver. Christian Gobrecht almost landed the position as he was extremely talented and qualified. Although Gobrecht would eventually get the job after William Kneass. Kneass became Chief Engraver on January 29, 1824. Many believe he got the job based on the strong recommendation of Adam Eckfeldts, who was a close friend of Kneass and also the Chief Coiner of the US mint at the time.
It will turn out that Kneass did not actually design or engrave any major original coin designs during his time at the Mint. He did make a number of major contributions to numismatics and did make some changes in some coinage. Kneass also oversaw the production of many US gold coins as well as the common circulating coins. One thing he created as a restraining collar, which was a new technique for standardizing the physical diameter of coins. The Capped Bust Silver Dime, started in 1809, was known as a "large type" up until 1828. It was then modified into a "reduced size" or "small type" capped bust liberty dime up until 1837. The large type dime was struck without a restraining collar and looked wider. Kneass's restraining collar invention helped prevent the coin from spreading and could make them thicker while keeping the same standard weight and reducing the diameter.
Kneass was also responsible for modifying John Reich's capped bust of liberty designs to help create Kneass's Capped Bust Half Dime. William Kneass is also responsible for 2 other major designs for gold coins in 1834. These include the $2.50 Gold Classic Head Liberty Quarter Eagle, and the $5 Gold Classic Head Liberty Half Eagle. In 1829, on the Quarter Eagle, he changed the stars to make them smaller and reduced the size of the letters. In addition, the classic liberty head and heraldic eagle on the obverse and reverse of the coin, were redrawn. The restraining collar was also applied in order to give the coin a plain, higher rim. In 1834, he again redesigned the gold quarter eagle and half eagle design to remove the motto that appeared on the reverse and also modified the liberty head by removing the turban and exposing the hair on lady liberty's head.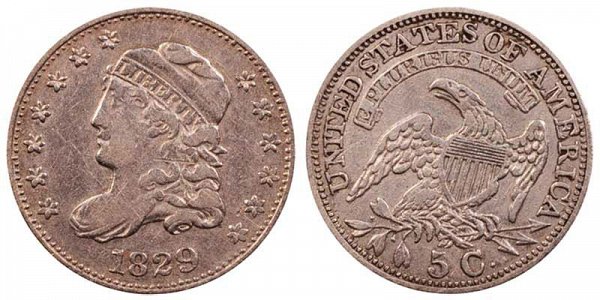 Capped Liberty Bust Half Dime design implemented by William Kneass.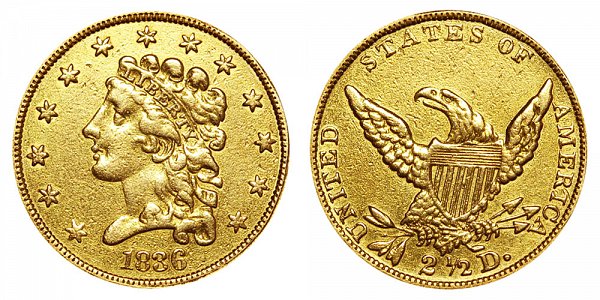 $2.50 Gold Classic Head Liberty Quarter Eagle, hair exposed, designed by William Kneass
$5 Gold Classic Head Liberty Half Eagle, hair exposed, designed by William Kneass
Kneass also did other minor pattern modifications until he suffered a debilitating stroke on August 27, 1835. The stroke left him virtually paralyzed on his right side and many people did not know he was gravely ill at the time. The Director of the Mint, Robert Patterson, assigned Gobrecht to be the assistant and Second Engraver. From 1835 through 1840, Gobrecht did much of the designing and engraving work while Kneass was unable to do so. Patterson actually gave Kneass the task of a major redesigning of the liberty into an American version of the Britannia, just before Kneass had his stroke. So Gobrecht actually ended up with the monumental task, which ultimately became the birth of the Seated Liberty design, one of the most well known early coin designs in US history. During the tenure of William Kneass, he oversaw the commissioning and establishment two new US Branch Mints: Charlotte Coin Mint and New Orleans Coin Mint on March 3, 1935, before his stroke. The Dahlonega Coin Mint was also commissioned as a US Branch Mint in 1937, but Gobrecht probably oversaw this.
Gobrecht did most of the pattern and die work for 5 years as Second Engraver before Kneass passed away on August 27, 1840. Gobrecht would then succeed Kneass and become the third Chief Engraver of the US Mint. Again, many people did not know of Kneass's illness and so he was given credit for various patterns, including some of the 1836-1838 silver half dollars. One such person who didn't know was Patterson DuBois who worked as an employee at the Mint, who gave Kneass credit in a biography for the American Journal of Numismatics in July of 1883. This is one source of confusion of Kneass being given credit instead of Gobrecht. A well known collector F.C.C. Boyd also continued the same misunderstanding in July 1940 in the print of "In The Numismatist". Although Kneass was too ill to design coins after his stroke in 1835.
William Kneass was well respected in his time. The Director of the Mint in 1835, Samual Moore, one wrote about him and quoted: "Mr. Kneass, our present engraver ... is an acceptable, popular and very useful officer, perhaps one of the most rapid in execution in the U.S. I do not know whether another could be found, whose celerity in his profession could have sufficed to furnish all the dies we have necessarily employed within the last five years". Among his friends and colleagues, Kneass was remembered as a "warm gentleman of the old school, who had the rare quality of engaging and winning the esteem and affection of children and youth".