USA Coin Book Item ID Number:
330720
Certification Number:
NONE
1944 Dime Value
The 1944 dime value is $1.40 for a coin that is circulated, priced close to its worth in silver value. Old Mercury dimes are widely collected however and there is potential of higher value.
The majority of these silver dimes are heavily circulated and worn, lacking many of the original details. The "Uncirculated" 1944 dime pictured, a $10 to $15 coin because of condition, would make a nice addition to any Mercury dime collection.
Of interest to collectors is the mint that struck your dime. Values do vary slightly and your coin would have a mintmark on the reverse indicating the Denver or San Francisco mint.
Likely affecting your 1944 dime value the most is its state of preservation. Many of these dimes survive today and with a large group to choose from, collectors tend to pick uncirculated examples.
You can "grade" your coins by comparing them to the images below and determine if it is a high end circulated dime or uncirculated. Judge how much your 1944 dime is worth.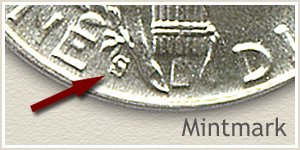 Three mints produced Mercury head dimes in 1944.
Starting with the Denver mint coin, it is identified by a "D" mintmark found on the reverse. The San Francisco mint used an "S" mintmark and Philadelphia, the main mint, did not place a mintmark on coins.