1803 Draped Bust Large Cents : All Varieties
Early Copper Penny
Mintage: 3,131,691
Metal Composition: 100% Copper
Diameter: 29 mm
Mass / Weight: 10.89 grams
What This Coin Looks Like (Obverse, Reverse, Mint Mark Location, Special Features, etc.):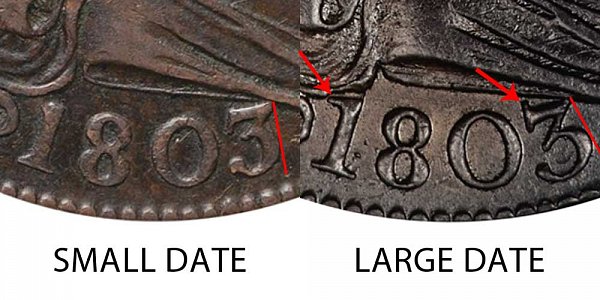 There were numerous varieties of the 1803 large cent. 4 of them have combinations of large and small dates along with large and small 1/100 denomination fractions on the reverse of the coins.
In the large date: The tip of the "3" has an extra notch pointing upwards and the number "1" has a notch as well in the 1803 date. The numbers are also larger and the bottom portion of the number "3" sticks outwards more. The small date features a blunt "1" with no notch and smaller numbers. The difference between the large date vs small date is depicted above in the example comparison image.
The large 1/100 fraction at the bottom of the reverse also has much larger numbers and two large notches at the tips of the "1"s. The small fraction has very little or no notches on the tips of the "1"s. The difference between the small fraction vs large fraction is depicted below in the example comparison image of the coins: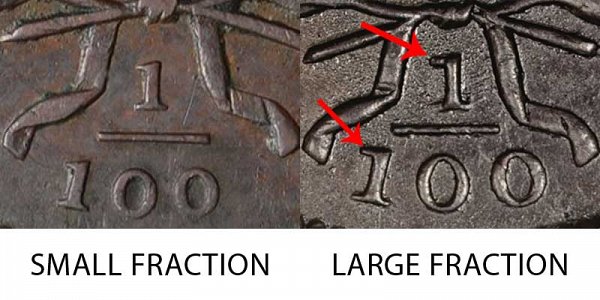 One major error included the 1/100 over 1/000 variety in which the denominator in the fraction was a triple zero. The die was corrected and the coin was restruck. This resulted in a 100 stamped over a 000 where the underlying "0" is still visible under the "1". An example image of this can be seen below: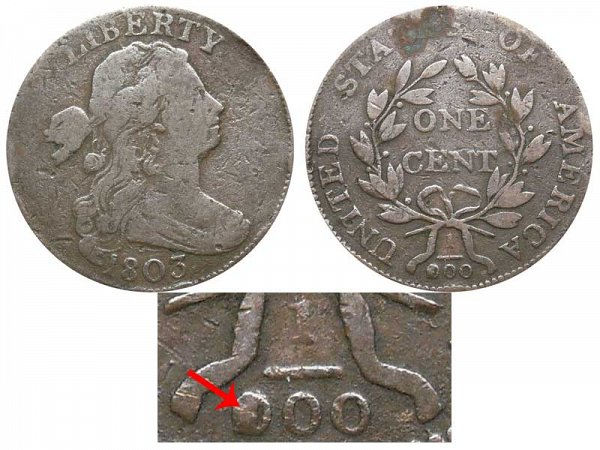 Another major error featured a stemless wreath on the reverse of the coin. Typically there are two stems under the two branches on the wreath. In this variety the stems are missing. The difference between the wreath with stems vs stemless wreath is depicted below: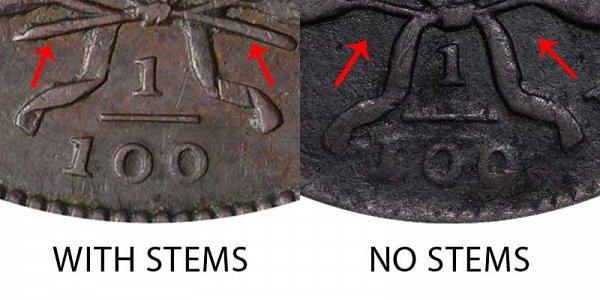 Major Varieties:
1803 Draped Bust Large Cent - Small Date - Small Fraction
1803 Draped Bust Large Cent - Small Date - Large Fraction
1803 Draped Bust Large Cent - Large Date - Small Fraction
1803 Draped Bust Large Cent - Large Date - Large Fraction
1803 Draped Bust Large Cent - 1/100 Over 1/000 Fraction
1803 Draped Bust Large Cent - Steamless Wreath Reverse
MELT VALUE: $0.0896
5 items found